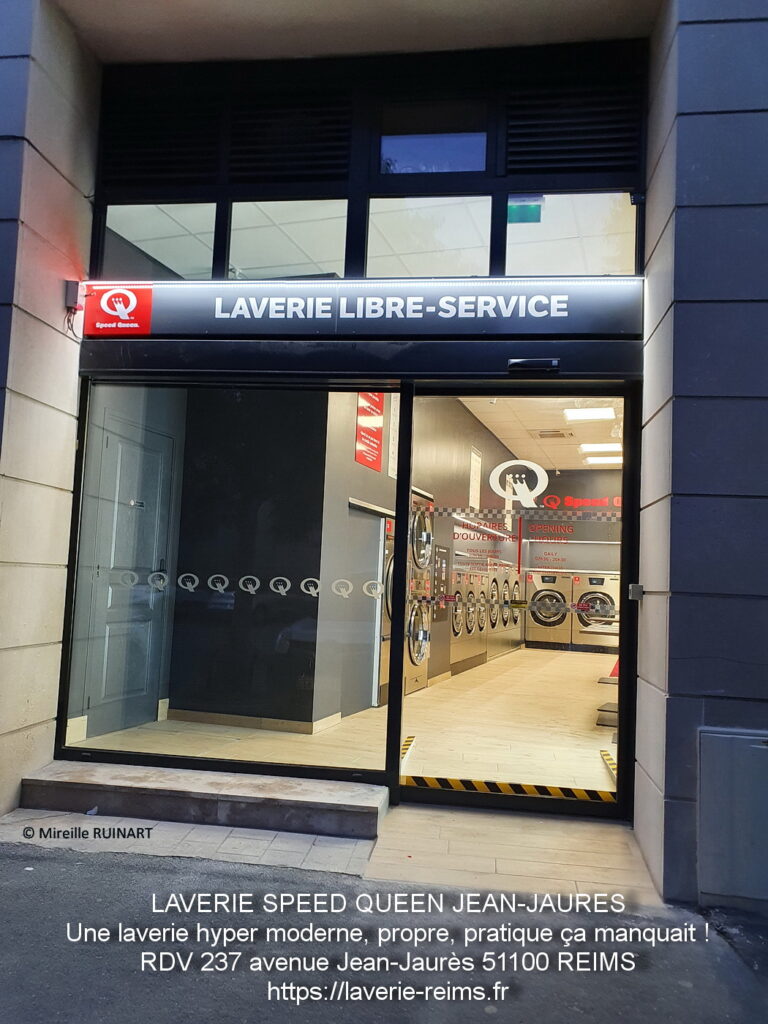 Situez la 2e laverie Speed Queen, propre, moderne, accessible de Reims :
Résumé côté pratique de la laverie Speed Queen Reims Jean-Jaurès :
Horaires : 7j/7 à partir de 7h30, fermeture des portes automatiques à 20h30, mais vous pouvez rester ensuite à l'intérieur, le temps de laver et sécher, en prenant si nécessaire plusieurs machines. La lumière s'éteint à 22h00.
Prévoir 1h environ pour un cycle lavage + séchage basique, une 1/2 h ou un peu plus pour le lavage seul suivant le programme choisi.
Laverie accessible handicapés et poussettes par porte automatique et pente douce au 237 avenue Jean-Jaurès, 51100 Reims
Arrêt de bus le plus proche : arrêt « cimetière de l'Est »
Laverie ultra moderne avec 9 machines à laver (de 6,5kgs à 18kgs) et 4 séchoirs (13 et 16kgs) dont vous choisissez le programme du bout du doigt au bandeau tactile.
Machines neuves dans une laverie entièrement neuve. Programme délicat prévu pour les machines de 6,5 kgs, ainsi vous pouvez y laver vos lainages.
Merci de ne pas trop charger les machines, ni les séchoirs : risque d'inondation ou de feu (lisez les informations détaillées dans le cahier information ou sur l'affichage dans la laverie si vous ne savez pas).
Laverie encore plus pratique avec l'injection automatique de la lessive, assouplissant et produit hygiénisant directement pendant le cycle de lavage. Les tarifs incluent ces produits. Si vous comparez les tarifs d'autres laveries, tenez en compte. Inutile de vous charger des bidons de produits, restez zen !
Laverie climatisée et accueillante, avec ses fauteuils confortables et tables pour plier le linge. La responsable laverie est joignable au numéro de tél affiché au mur de la laverie ou par mail ou le formulaire de contact de ce site.
Centrale de paiement tactile. Les paiements acceptés se font en espèces, par CB sans contact, par carte de fidélité. Rendu monnaie pour les paiements en espèces, billets accepté de 5, 10 et 20€.
Vous souhaitez poser des questions, ou vous renseigner sur les services :
[contact-form-7 404 "Non trouvé"]
Opening hours : 7 days/7 opening at 7:30, doors automatically closed at 8:30PM but you can stay inside the time you need to wash and dry. Take many washers and dryers at the same time if necessary. The light stop at 10:00PM. Count 1h to wash + dry.
ADULIE S.A.S. SIRET : 839 065 471 00030 immatriculée au RCS de Reims NAF 9601B blanchisserie, laveries